Coming soon...
The detail conference venue information will be available about on June 15, 2022.
---
Suzhou Attractions
When Suzhou is mentioned, naturally, people will think of its abundant classical gardens. The ingenious man-made landscape and the concept of maintaining harmony between mankind and nature have gained a high reputation worldwide. Possessing wonderful gardens, exquisite water towns, charming natural scenery and splendid history and culture, the city is praised as 'a paradise on earth'.
Top Things to Do

Humble Administrator's Garden
(Zhuo Zheng Yuan)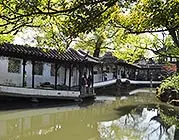 Being one of the four most famous gardens in China and the largest garden in Suzhou, the Humble Administrator's Garden is a masterpiece of classical gardens in South Yangtze River region. The garden is divided into three sections and each has its own features. The delicate pavilions and corridors, windows of various shapes, along with winding paths fully represent the skillful techniques of ancient gardeners. Meanwhile, the names of most structures in the garden have a connotation, usually conveying the former owners' wills or attitudes towards life.

Tiger Hill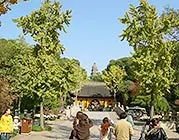 A noted poet Su Shi in Song Dynasty (960-1279) once said, "It's a lifelong pity if one visited Suzhou without going to the Tiger Hill". From his words, we can know what Tiger Hill means to the city. It's a luxuriant hill where the Tomb of King He Lu during the Spring and Autumn Period (770 BC-476 BC) is located. Besides, it abounds in precious cultural relics, including the Tiger Hill Pagoda, Sword Testing Stone and Sword Pool. The Buddhism culture, excellent landscape, profound history background, as well as the legendry tales all contribute to the charm of Tiger Hill.

Lingering Garden
(Liu Yuan)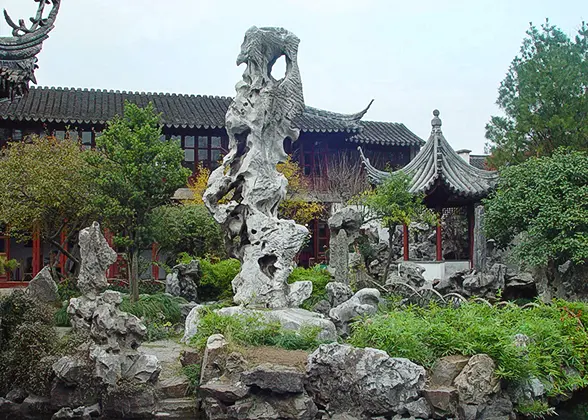 First built in 1593 during the Ming Dynasty (1368-1644), the garden has a long history of more than 400 years. In the Lingering Garden, buildings, trees and flowers blend harmoniously with their surroundings. Liu Shu, one of the previous owners, was an enthusiast for stone collection. He collected many unusually-shaped lake stones in the garden, among which Guan Yun Feng is the most precious one and gains honor for the garden.

Zhouzhuang Water Town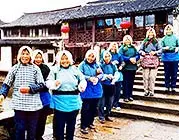 Zhouzhuang Water Town, inheriting the splendid culture of Wu State in the Spring and Autumn Period, is the best example of water countryside in China. There, you can enjoy a view like a Chinese landscape painting, just as what described by Ma Zhiyuan (a poet of Yuan Dynasty) in his lyric - a few houses hidden past a narrow bridge and below the bridge a quiet creek running. The pastoral waterside scenery and peaceful life will definitely enchant you.

Tongli Town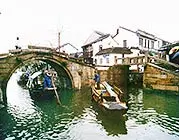 Only 11 miles (18 kilometers) from the downtown Suzhou, Tongli is a wonderful travel destination where you can experience the original water town life in rural China. As a land divided into seven sections by fifteen rivers, Tongli relies heavily on bridges for the sake of transportation. The antique bridges there are exquisite and well-preserved and the Ternate Bridges are the most famous of all. The locals have a tradition to walk on the three bridges on happy occasions. In addition, the residential houses and gardens are also very charming.

See more about
Top 10 Things to Do in Suzhou
More Attractions

Canglang Pavilion (Blue Wave Pavilion) is the oldest Suzhou garden which can be traced back to more than 1,000 years ago.



Couple's Retreat Garden (Ou Yuan) was once dwelled by a couple seeking secluded life and thus got its name.



Guangfu Ancient Town is mainly reputed for the plum flowers blooming in the Sea of Fragrant Snow in early spring. Apart from this, there are interesting temples and handicrafts worth appreciating.



Hanshan Temple (Cold Mountain Temple) is one of the most famous Buddhist temples in Chinese history and boasts its bell rings.



Jinji Lake is the largest city lake park in China. It's a symbol of Suzhou as "New Paradise on Earth".



Lion Grove Garden (Shizilin) is known as "a Kingdom of Rockery", rich in various rocks resembling lions.



Luzhi Town is a peaceful and pristine land typically representing an ancient water town in lower reaches of the Yangtze River.



Mudu Ancient Town is a town full of fine structured gardens, including Yanjia Garden, Hongyin Shanfang Garden, Ancient Pine Garden and Bangyan Mansion.



Panmen Scenic Area, lying to the southwest of Suzhou, consists of Ruiguang (Auspicious Luster) Pagoda, Water and Land City Gates and Wumen Bridge.



Pingjiang Road is a historical block with old style Suzhou architectures and culture. It lies along an old canal and is comprised of many old alleys and featured stores.



Shantang Street (Seven-Li Shantang) is a riverside pedestrian street from Changmen Gate to the Tiger Hill, in parallel with the Shantang River.



Shaxi Ancient Town is an ancient water town with many folk houses built in Ming and Qing Dynastinies, ancient streets and bridges.



Suzhou Silk Museum unveils the secrets of making silks and is the best place to learn the city's prosperity of silk in the past.



Suzhou Museum is an attractive place famous for its rare cultural relics and unique architectural style.



The Master of Nets Garden (Wang Shi Yuan) is the best example of small and medium-sized gardens.



West Garden Temple was initially one part of the Lingering Garden, featuring sacred temples and beautiful landscapes.



Xuanmiao Taoist Temple (Temple of Mystery) is a place where you cannot only admire the majestic buildings, but also enjoy Taoist music and the flying cymbals performance.

Suzhou Zoo has many rare and endangered species such as Yangtze Giant Softshell Turtles and Ring-tailed Lemur.

Suzhou Zhongnan Center is the tallest skyscraper under construction in China up to now - 729 meters (about 2392 feet).